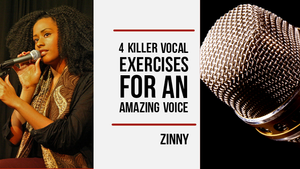 Hello Zebels, How are you? I know 2021 started on a promising note, stay focused on yourself and your goals. 
I just want to share a quick post about vocal exercises. It is super important to take care of our voice as singers, but sometimes it is impossible to stick to a schedule if you wake up pretty early for work, have toddlers, or simply busy to do any exercise.
Early last year my goal was to have killer vocals as a singer and performer but as an artist who is often looking for ways to improve my craft, I felt like I needed to sit down and take an inventory of where I am and where I needed to improve. Rehearsing and playing with my band helped me in finding places where I could improve vocally because I could hear my raw sound against live instruments.
I wasn't taking deep breaths into my back and diaphragm, instead; I was breathing into my chest. 

I was running out of breath and not holding my notes where I should 

I didn't like my tone sometimes. 
It was at the same time I began my artist development course; I shared with you in my last blog post Read here 
During my course, I learned the first lesson again about developing and maintaining a magnificent voice is PRACTICE! 
Many independent artists do not take vocal exercise seriously as we take social media. We just wing it, hoping to sing flawlessly in a concert or during vocal sessions. It doesn't work that way. Your voice is your most prized attribute as a singer. Why do we not treat it with care and respect? 
From then on I signed a contract with myself to be faithful to vocal warmups without excuses. I haven't missed a day of daily vocal practice in a year. 
These are 4 simple and effective exercises all major singers use before going on stage or on the go, whether you are in the shower, bus, train, or in a hurry. 
Exercise 1 - Lip trills/lip rolls- I think this is many singers' favorite, It works magic for my voice, opens up my throat, loosens the lips, jaw, facial muscles, and improves my tone immediately. LIP TRILLS.
Exercise 2- SSSS long hold. It works like this; You take a deep breath to your back, feel the air like you have wings and they are opening up. Then release air in a steady flow until you run out of air. This is a great breathing exercise, and the goal is to keep the outflow steady so you can hold out a note for long. SSSS long hold(breathing exercise)
Exercise 3- This is a variation of exercise 2, in this exercise you will take in air but in pulses and let it out in pulses with a ssssssss. This is an exercise that train singer to control and sustain how they take air during vocal sessions and stage performance when you have run out of air. Breathing Exercise 2
lastly 
Exercise 4- Vocal fry, I love this exercise because it sweetens your lower range and clears the vocal cords of every blockage. Vocal fry style is common with Rock artists. Just try not to do too much of it 3 sets of going up the scale and down is fine. Vocal fry.
These exercises have helped me when I didn't have the time to do a full 45 min vocal workout and before I start my vocal exercise, I usually throw in a cardio exercise like 50 jumping jacks or running in place to loosen my whole body and squash any tension. 
Let us give our voice all the love it needs. 
Share and drop me a comment  
Have a voice blasting week.